(21/1/2018) Growing cashew in Cambodia for export
What is high-end products, customers are mainly "rich" so the demand for organic products will be faster than other popular items.
In 2017, Vietnam's export price of cashew kernel averaged $ 10 per kg, retail prices to consumers around $ 20 per kilogram, indicating the high value of this grain.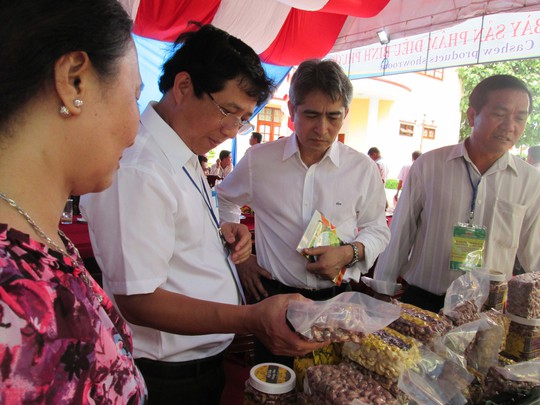 Cashew nut will bring high economic value when it meets organic standards soon
Mr. Vu Thai Son, Chairman of Long Son Joint Stock Company – a leading cashew nut exporter, said that in Vietnam there are organic cashew growing areas, some of which have been certified. International organic but relatively small area. Some certified organic cashew nuts are sold domestically at prices ranging from VND 700,000-800,000 / kg, 2-3 times more than conventional products. Recently, the Vietnam Cashew Association (Vinacas) has agreed to cooperate with the Cambodian Ministry of Agriculture, Forestry and Fisheries on the development of cashew growing area of ​​500,000 ha in Cambodia, estimated to produce 1 million tons of raw cashew, serving Vietnamese enterprises processing export.
Talking to reporters Nguoi Lao Dong, Nguyen Duc Thanh, Chairman of Vinacas, said that the survey found that Cambodia has the advantage of growing cashew, especially organic. The reason is that Cambodia has a large land fund suitable for growing cashews and farming habits of Cambodian farmers very little use of chemical fertilizers and pesticides. In the past, Cambodian farmers cultivated rubber and tapioca without economic efficiency, so the government was looking for alternative crops.Meanwhile, Vietnam's cashew industry is lacking in raw materials so it has promoted cooperation.
According to Thanh, Vinacas advised Cambodia to cultivate organic cashew nuts and was approved by the Cambodian Minister of Agriculture, Forestry and Fisheries. However, the implementation depends on the Cambodian side because in the cooperative agreement, Vinacas only transfers technology (seeds, harvesting, preserving) and consumes all raw cashew nuts. Vinacas does not have a business function so it does not carry out direct cultivation or construction of a processing plant in Cambodia.
Mr. Thanh added: There are a number of Vinacas members invest in cashew growing in Cambodia, some are going to harvest.These projects are not part of the agreement to build a 500,000 hectare material zone signed by Vinacas.
Articles and photos: Ngoc Anh
Source: Nguoi Lao Dong
BACK